Erika Liem Palidar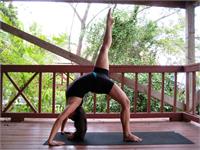 Erika began teaching in 2007. She teaches us to breathe, sweat, and move with inner grace; to build strength and power in our core, and to radiate it all out. She is a RYT 200 and was trained by Faith Hunter in Washington, DC. Erika is also a pilates instructor with certifications from PHI Pilates and Balanced Body University, and is a trained Barre teacher. Erika is also an Army wife and a writer. In September 2011, she was published in Yoga Journal. While she was pregnant with her daughter Audrey, Erika appeared in a Yoga Vibes online prenatal yoga video demonstrating how to modify poses during pregnancy. Following Audrey's birth, Erika trained at Tranquil Space Yoga in Washington, DC to teach baby-and-me and toddler yoga. Erika also taught yoga to the Warrior Transition Unit in Schweinfurt, Germany, her class received rave reviews amongst soldiers and also in the Bavarian Times. A self-described "recovering attorney," Erika had a 10-year career in litigation, holds a law degree from American University, in Washington, DC, and has a BA from Brown University, in Providence, RI.
Erika Liem Palidar instructs the following:
Get your sweat on with a strong vinyasa flow class heated to 90 degrees! This class is designed to move, flow, and burn calories. Please be sure to hydrate in advance and don't forget your water the day of class! Bring a towel because things will get sweaty!