Kelly Stark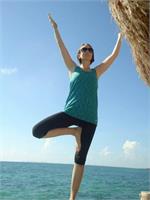 Fitness has been a huge part of Kelly's life from a very young age. From Tee Ball to Softball in Grade School, to Track and Field in Middle and High School, then through the Army and now Yoga and Barre, she has learned the value of a little sweat and determination, as well as the peace it can bring to both mind and body. For the last few years, Kelly has been an enthusiastic student of many forms of Yoga, and has even attended "Mommy and Me" Yoga with her young daughter since before she could stand on her own. As soon as she heard that Barre Fitness was coming to Live and Let Liv, she jumped at the chance to not only attend and learn all that it had to offer, but to teach and help others discover this wonderful program. Kelly believes that Barre Training is a fantastic way to not only get in great shape, but to have a great time and make new friends while doing it!
Kelly Stark instructs the following:
This class will tone and lengthen your muscles from head to toe, with special emphasis on abdominals, glutes, and legs. This class incorporates a ballet barre for extra lower body strengthening as well as a variety of props such as balls and bands for an added challenge. Come prepared to dance and sweat!