Betty Secrest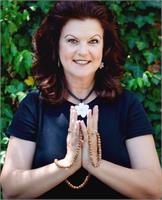 Betty is a wife, mother and grandmother with a full time job. She is an animal lover and has given a home to numerous wayward furry souls. Betty thought life was complete with her devotion to her family, grandchildren and grand-puppies until she was introduced to Yoga and all the benefits it entailed. She learned that Yoga was so much more than just another form of exercise for it encompasses our physical, spiritual and emotional being. This awareness brought about a self- searching quest to find her inner peace and a desire to share her passion with others which soon led her to obtaining her 200 hr Yoga Instructor's Certification with Yama Yoga in Canton, Texas. Betty has found that even in this stressful world, a calming peacefulness can be obtained through Yoga and meditation and she stands ready to share this beautiful practice with you.
Betty Secrest instructs the following:
Gentle yoga simply invites you to be well. It targets all levels and beckons you to be good to your mind and your body as we stretch tight muscles and loosen stiff joints while quieting our minds from the noisy world around us. This class is ideal for anyone wanting to work on stress-release, flexibility and balance at a gradual and comfortable pace.