Tanner Evans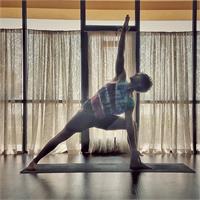 Tanner joined the Liv Team as a student turned Karma Yogi relatively quickly; his dedication and tenacity for yoga set him apart. Recognizing his teeming potential, the instructors of Liv encouraged him to take on a role as a teacher himself. Under mentorship, he began teaching and training. As an RYT 200 with a Vinyasa Flow certification and hundreds of hours of teaching under his belt, he inspires his students.
Influencing teachers of his practice include Ido Portal, Kristen and Eduardo of Yoga Yoga Austin.
Tanner Evans instructs the following:
Get your sweat on with a strong vinyasa flow class heated to 90 degrees! This class is designed to move, flow, and burn calories. Please be sure to hydrate in advance and don't forget your water the day of class! Bring a towel because things will get sweaty!




A class with a strong practice of INVERSIONS. Learn how to go upside down and grow strong with an emphasis on core work. The class regularly includes powerful poses such as arm balances and inversions. Open to all levels, some yoga experience is helpful for this class.