Tanner Evans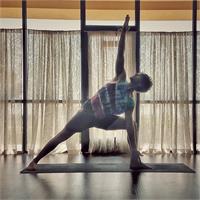 Tanner is one of our talented students who serves our studio as a Karma Yogi. His love of yoga has led him to many hours of self study and practice. He is currently an apprentice yoga teacher trainee working with our senior instructors to become a yoga teacher. He will attend the Yoga Teacher Training through Yoga Yoga when it starts in January.
Tanner Evans instructs the following:
Get your sweat on with a strong vinyasa flow class heated to 90 degrees! This class is designed to move, flow, and burn calories. Please be sure to hydrate in advance and don't forget your water the day of class! Bring a towel because things will get sweaty!




If you love vinyasa flow and are looking to turn up the intensity and strength then power vinyasa is right for you! An energetic, movement based practice that will get your heart rate up. This class offers inversions, arm balances, standing balances, hip openers, and backbends at every level from beginner to advanced.




A class with a strong practice of INVERSIONS. Learn how to go upside down and grow strong with an emphasis on core work. The class regularly includes powerful poses such as arm balances and inversions. Open to all levels, some yoga experience is helpful for this class.