Corn Lopez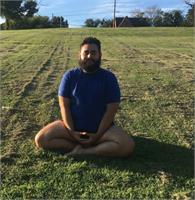 Corn Lopez instructs the following:
Gentle yoga simply invites you to be well. It targets all levels and beckons you to be good to your mind and your body as we stretch tight muscles and loosen stiff joints while quieting our minds from the noisy world around us. This class is ideal for anyone wanting to work on stress-release, flexibility and balance at a gradual and comfortable pace.




Restorative yoga is an incredibly healing and relaxing practice that's suitable for folks with injuries, pregnant women, and beginners. It is ideal for relieving high stress, and is therapeutic for minor injuries and illness. With the use of blankets, bolsters and other props you will support and open all areas of your body, allowing for the relief of tension and stress. Everyone will receive adjustments and assistance from the teacher to ensure that you're getting the most benefit from each pose.

* Our restorative yoga instructors incorporate essential oils and guided meditations to enhance this practice (varies by instructor)




An energetic, movement based practice that builds strength and flexibility. In Sanskrit, Vinyasa means 'movement linked by breath.' This class offers an array of sequences and poses to include inversions, arm balances, standing balance poses, backbends, and stretching. There are modifications and variations for every level of student!




For beginners and seasoned practitioners alike. Ever wonder if you are aligning a certain pose properly? Slow down your practice, ask questions, and breathe deeply. This class will take you through basic flows with plenty of instructions.




Add some movement to your lunch break with this flow based, all-levels class. It's the perfect way to take a moment away from your daily activities and reconnect your body and mind. This class will incorporate calming breath work and physical movement to give you energy to make it through the rest of the day. 45 minutes.




A blend of gentle, flowing opening poses followed by a sequence of passive and cooling Yin poses. Yin yoga focuses on gaining access to the deep connective tissues (fascia) and joints. It is a quiet, mediative practice that is calming and restorative. This practice is a a great complement to a regular, more active (Yang) practice.




An early morning invigorating vinyasa-style yoga. This class is designed to build strength, improve flexibility, and magnify your body's energy to start your day off right!




This class is designed to be baby friendly! ALL Moms and babies are welcome to attend for yoga practice and conversation. Expecting and brand new moms are encouraged to check this out. Our teachers are experienced in helping prenatal and postnatal women how to regain strength in their yoga practice while developing a bond with their babies and other ladies in the yoga community. Class starts January 18th.




This month VIP event at Live and Let Liv is Yoga Uncensored Flow and will be taught by Corn. Yoga uncensored is for sassy yogis, or yogis that love to laugh and have a good time while on the mat. In this class you will be able to awaken your throat chakra by chanting the F bomb. Yoga Uncensored allows you to take your practice 30% less seriously, and creates a space for you to joke with the teacher about all the weird things that teachers say in class. If we can laugh at ourselves on the mat, then maybe will be able to bring this practice off the mat. There will be an uncensored playlist, and this class is not meant for yogis who do not like cussing.