Jean Rubanick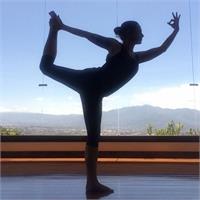 Jean began practicing yoga in 2006 while attending veterinary school. She continued practicing on her own while the Army moved her to various places. In 2015 she relocated to Killeen and was blessed to find Live and Let Liv Yoga. She quickly fell in love with the studio and the community. As she always wanted to become a yoga teacher, the universe lined things up for her and provided the training she desired. She completed her 200 hours in vinyasa with Yoga Yoga (through Liv) and is currently participating in a 108-hour mentorship called "The Art of Holding Space" so that she might better provide the experience that her students desire and need. She particularly enjoys the meditative aspects of the practice and, through yoga, she has learned to let go of what she can't control and what no longer serves her. She strives to give her students the gift of the present moment.
Jean Rubanick instructs the following:
Get your sweat on with a strong vinyasa flow class heated to 90 degrees! This class is designed to move, flow, and burn calories. Please be sure to hydrate in advance and don't forget your water the day of class! Bring a towel because things will get sweaty!




An energetic, movement based practice that builds strength and flexibility. In Sanskrit, Vinyasa means 'movement linked by breath.' This class offers an array of sequences and poses to include inversions, arm balances, standing balance poses, backbends, and stretching. There are modifications and variations for every level of student!