Sahala Hardin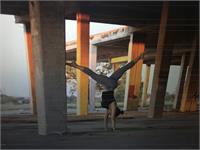 Sahala began practicing yoga 14 years ago. Like many she came to yoga for the physical benefits, seeking relief from tight hamstrings and sore knees from years of long distance running, but quickly fell in love with the whole-body experience. Yoga strengthened Sahala both physically and emotionally, by helping bring awareness to how emotional stress and discomfort manifested physically in her body. After 10 years of practicing yoga, she decided to become an instructor to deepen her own practice and share the gift of yoga with others. In 2013, she completed her 200 hour Vinyasa/Hatha Flow Certification in Austin at Yoga Yoga and began teaching. Sahala believes in creating classes that are both challenging and soothing for all levels. She encourages students to find that balance between pushing new boundaries and nurturing themselves. Inversions and arm balances are her favorites so don't be surprised to find them incorporated in most of her classes. She has been fortunate to be able to teach everywhere from Belton, TX to Ibiza, Spain and London, UK.
Sahala Hardin instructs the following:
An energetic, movement based practice that builds strength and flexibility. In Sanskrit, Vinyasa means 'movement linked by breath.' This class offers an array of sequences and poses to include inversions, arm balances, standing balance poses, backbends, and stretching. There are modifications and variations for every level of student!




All Levels Vinyasa Flow Class. This practices includes challenging poses at a slowed down to build strength and flexibility. The use of creative vinyasa sequencing and longer held cooling poses give this class a zen,peaceful feeling. Perfect for those newer to yoga or those wanting to work on their yoga practice in a fun and casual setting.